New Series from Disney Branded Television and 20th Television Will Debut with a Two-Episode Premiere  
BURBANK, Calif. (August 18, 2023) Today, in celebration of Percy Jackson's birthday, Disney+ released a new teaser for the upcoming Disney+ Original series "Percy Jackson and the Olympians." The epic series, based on Disney Hyperion's best-selling book series by award-winning author Rick Riordan, will debut with a two-episode premiere on Wednesday, December 20, 2023 on Disney+, followed by new episodes weekly.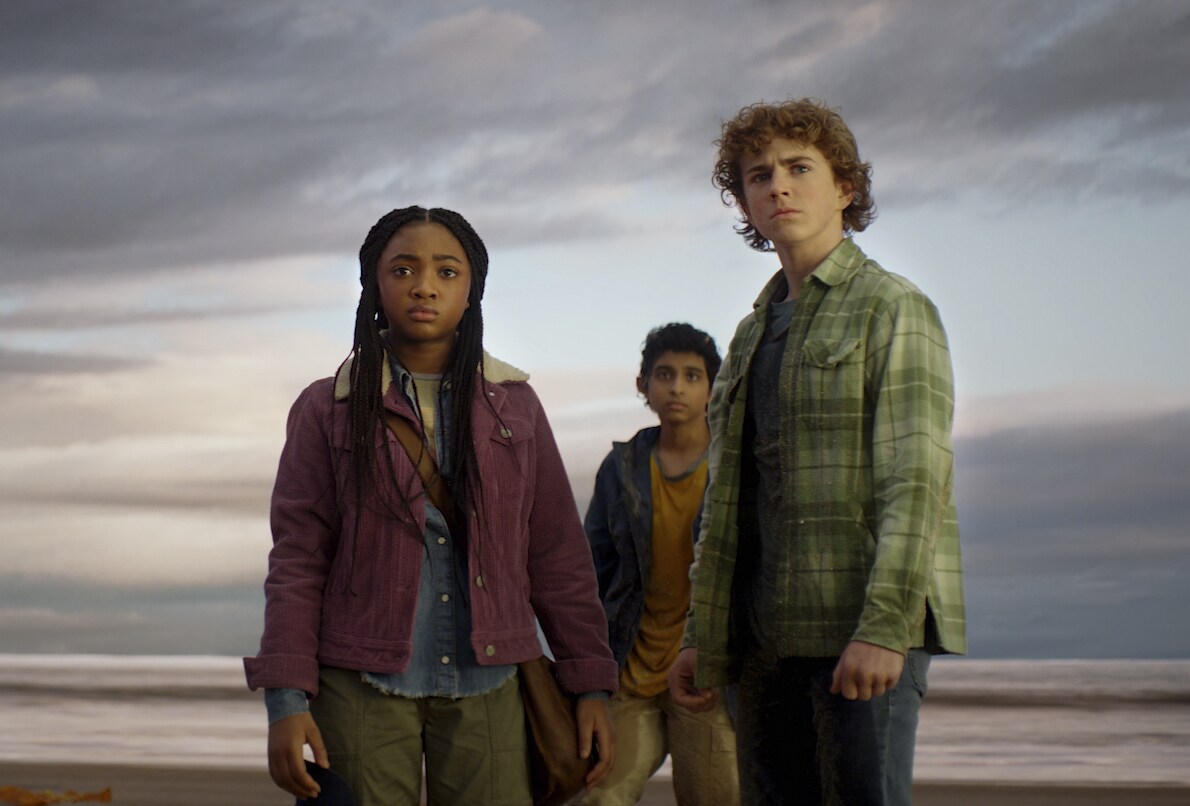 Photo Credit: Disney
Click HERE to watch the teaser
Click HERE to download images
"Percy Jackson and the Olympians" tells the fantastical story of a 12-year-old modern demigod, Percy Jackson, who's just coming to terms with his newfound divine powers when the sky god, Zeus, accuses him of stealing his master lightning bolt. With help from his friends Grover and Annabeth, Percy must embark on an adventure of a lifetime to find it and restore order to Olympus.
The series stars Walker Scobell ("Percy Jackson"), Leah Sava Jeffries ("Annabeth Chase"), Aryan Simhadri ("Grover Underwood") and features notable guest stars Lin-Manuel Miranda ("Hermes"), Megan Mullally ("Alecto" aka "Mrs. Dodds"), Toby Stephens ("Poseidon"), Virginia Kull ("Sally Jackson"), Jason Mantzoukas ("Dionysus" aka "Mr. D"), Jay Duplass ("Hades"), Glynn Turman ("Chiron" aka "Mr. Brunner"), the late Lance Reddick ("Zeus"), Adam Copeland ("Ares"), Charlie Bushnell ("Luke Castellan"), Dior Goodjohn ("Clarisse La Rue"), Jessica Parker Kennedy ("Medusa"), Olivea Morton ("Nancy Bobofit"), Suzanne Cryer ("Echidna"), Timm Sharp ("Gabe Ugliano"), Timothy Omundson ("Hephaestus").
Renowned "Percy Jackson" creator Rick Riordan worked closely with the creative team and showrunners Jon Steinberg and Dan Shotz to bring his books to life and deliver a series that stays true to his vision for these heroic characters that millions of book fans know and love. The first two episodes are written by Riordan and Steinberg and directed by James Bobin. Steinberg and Shotz serve as executive producers alongside Rick Riordan, Rebecca Riordan, The Gotham Group's Ellen Goldsmith-Vein, Bert Salke, The Gotham Group's Jeremy Bell and D.J. Goldberg, James Bobin, Jim Rowe, Monica Owusu-Breen, Anders Engström and Jet Wilkinson.
"Percy Jackson and the Olympians" series brand extensions will include a cross-category product line of apparel, accessories, stationery, and tie-in books available this fall at Hot Topic, Box Lunch, Barnes & Noble, and other retailers.
The Percy Jackson book series has sold more than 100 million copies worldwide.
Twitter: @DisneyPlus, @PercySeries

Instagram: @DisneyPlus, @PercySeries
Facebook: @DisneyPlus
TikTok: @DisneyPlus, @percyseries
Hashtag: #PercySeries #PercyJackson
Media Kit: https://press.disneyplus.com/media-kits/percy-jackson-and-the-olympians
About Disney+
Disney+ is the dedicated streaming home for movies and shows from Disney, Pixar, Marvel, Star Wars, and National Geographic, along with The Simpsons and much more. In select international markets, it also includes the general entertainment content brand, Star. The flagship direct-to-consumer streaming service from The Walt Disney Company, Disney+ offers an ever-growing collection of exclusive originals, including feature-length films, documentaries, live-action and animated series, and short-form content. With unprecedented access to Disney's long history of incredible film and television entertainment, Disney+ is also the exclusive streaming home for the newest releases from The Walt Disney Studios. Disney+ is available as a standalone streaming service, as part of the Disney Bundle in the U.S. that gives subscribers access to Disney+, Hulu, and ESPN+, or as part of Combo+ in Latin America with Star+, the standalone general entertainment and sports streaming service in the region. For more, visit disneyplus.com, or find the Disney+ app on most mobile and connected TV devices.
About Disney Branded Television
Disney Branded Television encompasses the creative storytellers and production and content marketing teams responsible for Disney-branded television series, movies and other programming spanning live-action, animated and unscripted formats. The group fuels the Disney+ streaming platform and Disney Channel, Disney XD and Disney Junior linear networks with content geared toward kids, tweens, teens and families, with stories that are imaginative, aspirational and reflective of their world and experiences.
About 20th Television
One of the Disney Television Studios, 20th Television is a prolific supplier of entertainment programming, including Hulu's most watched comedy ONLY MURDERS IN THE BUILDING from Dan Fogelman, John Hoffman and Steve Martin, HOW I MET YOUR FATHER from Isaac Aptaker and Elizabeth Berger, and critically acclaimed dramas THE DROPOUT from Liz Meriwether, and DOPESICK from Danny Strong and starring Michael Keaton; ABC's new comedy hit ABBOTT ELEMENTARY from Quinta Brunson, and THE WONDER YEARS from Saladin Patterson and Lee Daniels; FX's newest hit THE OLD MAN from Jon Steinberg and starring Jeff Bridges and its blockbuster series AMERICAN HORROR STORY from Ryan Murphy and Brad Falchuk; NBC's top series THIS IS US from Dan Fogelman; Fox's No. 1 drama, 9-1-1 and its spinoff 9-1-1: LONE STAR from Ryan Murphy, Brad Falchuk and Tim Minear, in addition to dozens of others. 20th Television shows have amassed a collective 1867 Emmy nominations and 214 Emmy wins, as well as multiple Golden Globes, Humanitas Prizes and Peabody Awards. The studio's landmark series from its 70 year library include such classics as BATMAN, MODERN FAMILY, M*A*S*H, GLEE, HOW I MET YOUR MOTHER, BONES, EMPIRE, FRESH OFF THE BOAT, 24, BUFFY THE VAMPIRE SLAYER, NEW GIRL and THE X-FILES.
Media Contacts:
Disney Branded Television
Chrissy Woo
Chrissy.Woo@disney.com
Heather Levine
Heather.Levine@disney.com
Cara Freitas
Cara.Freitas@disney.com
20th Television
Erin Riley
Erin.Riley2@disney.com