Montalban Will Reunite with Brandy As King Charming, Cinderella's Devoted Husband, in the Latest Installment of the "Descendants" Franchise

BURBANK, Calif. (March 22, 2023) – Paolo Montalban has been added to the cast of "Descendants: The Rise of Red" (formerly known as "The Pocketwatch"), the latest installment in Disney Branded Television's music-driven mega-hit "Descendants" franchise, it was announced today by Disney+. Montalban will portray King Charming, Cinderella's (Brandy) husband and Chloe's (Malia Baker) dad, who is as much in love with Cinderella as he ever was. He previously played Prince Charming opposite Brandy's Cinderella in Walt Disney Television's iconic 1997 movie "Rodgers and Hammerstein's Cinderella."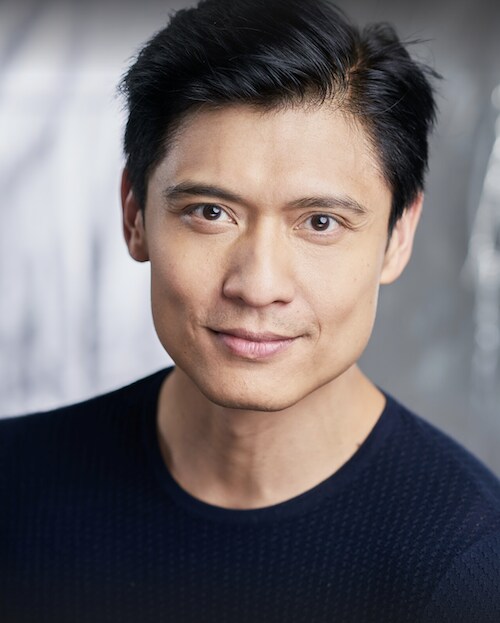 Photo Credit: Roberto Vivancos
Link to Announcement Video: HERE
Montalban joins previously announced cast members Kylie Cantrall (Disney's "Gabby Duran and the Unsittables") as Red, Malia Baker ("The Babysitters Club") as Chloe, Brandy ("Queens") as Cinderella, Rita Ora ("Kung Fu Panda: The Dragon Knight") as "The Queen of Hearts," China Anne McClain (Disney's "Descendants 2" and "Descendants 3") as Uma, Dara Reneé (Disney's "High School Musical: The Musical: the Series") as Uliana, Ruby Rose Turner (Disney's "Coop and Cami Ask the World") as Bridget/Young Queen of Hearts, Morgan Dudley ("Jagged Little Pill" on Broadway) as Ella/Young Cinderella, Joshua Colley ("Senior Year") as Hook, Melanie Paxson ("Descendants" franchise) as Fairy Godmother, Jeremy Swift ("Ted Lasso") as Principal Merlin and Leonardo Nam ("Westworld") as Maddox Hatter.
The "Descendants" movies unfurled an imaginative mythology of two new lands, idyllic Auradon and the ragtag Isle of the Lost, home to the teenage progeny of Disney's most iconic characters and notably, its most notorious villains. The bold new story of "Descendants: The Rise of Red" returns to these lands and also takes audiences through the rabbit hole to the hostile unincorporated territory of Wonderland, a magical, mysterious place made famous in "Alice in Wonderland."
"Descendants: The Rise of Red" follows the story of Red, the rebellious daughter of the Queen of Hearts, and Chloe, Cinderella's perfectionist daughter. When the tyrannical Queen of Hearts incites a coup against Auradon, polar opposites Red and Chloe must join forces and travel back in time to undo the traumatic event that set Red's mother down her villainous path.
Lauded filmmaker Jennifer Phang ("Advantageous," "Half-Life," "Foundation," "The Flight Attendant") is the director and co-executive producer of "Descendants: The Rise of Red," and the script was written by Dan Frey and Russell Sommer ("Magic: The Gathering"). Returning to the franchise is production designer Mark Hofeling ("Descendants," "Zombies," "High School Musical"). Suzanne Todd ("Noelle") and Gary Marsh are executive producers and the casting directors are Alexis Frank Koczara and Christine Smith Shevchenko ("The Mighty Ducks: Game Changers").
Twitter: @DisneyPlus | @DisneyChannel
Instagram: @DisneyPlus | @DisneyChannel | @DisneyDescendants
Hashtag: #DescendantsDeets
About Disney+
Disney+ is the dedicated streaming home for movies and shows from Disney, Pixar, Marvel, Star Wars, and National Geographic, along with The Simpsons and much more. In select international markets, it also includes the general entertainment content brand, Star. The flagship direct-to-consumer streaming service from The Walt Disney Company, Disney+ offers an ever-growing collection of exclusive originals, including feature-length films, documentaries, live-action and animated series, and short-form content. With unprecedented access to Disney's long history of incredible film and television entertainment, Disney+ is also the exclusive streaming home for the newest releases from The Walt Disney Studios. Disney+ is available as a standalone streaming service, as part of the Disney Bundle in the U.S. that gives subscribers access to Disney+, Hulu, and ESPN+, or as part of Combo+ in Latin America with Star+, the standalone general entertainment and sports streaming service in the region. For more, visit disneyplus.com, or find the Disney+ app on most mobile and connected TV devices.
About Disney Branded Television
Disney Branded Television encompasses the creative storytellers and production and content marketing teams responsible for Disney-branded television series, movies and other programming spanning live-action, animated and unscripted formats. The group fuels the Disney+ streaming platform and Disney Channel, Disney XD and Disney Junior linear networks with content geared toward kids, tweens, teens and families, with stories that are imaginative, aspirational and reflective of their world and experiences. Recent projects include "High School Musical: The Musical: The Series," "Monsters at Work," "The Mysterious Benedict Society" and "Marvel's Spidey and his Amazing Friends." Disney Branded Television has created some of the most iconic and award-winning properties and franchises, including Peabody Award winners "Doc McStuffins" and "The Owl House"; Emmy Award winners "Big City Greens" and "Elena of Avalor"; the beloved "Mickey Mouse" cartoon shorts plus the Disney Channel Original Movie (DCOM) franchise, comprised of more than 100 titles.
*COPYRIGHT ©2023 Disney Enterprises, Inc. All photography is copyrighted material and is for editorial use only. Images are not to be archived, altered, duplicated, resold, retransmitted or used for any other purposes without written permission of Disney+. Images are distributed to the press in order to publicize current programming. Any other usage must be licensed. Photos posted for Web use must be at the low resolution of 72dpi, no larger than 2x3 in size.
Disney+ Media Relations:
Heather Levine
Heather.Levine@disney.com
Alexis Greenberg
Alexis.Greenberg@disney.com
Disney Branded Television Communications:
Chrissy Woo
Chrissy.Woo@disney.com
Julie Mitchell
Julie.M.Mitchell@disney.com