Showcasing Six New Short Films, Disney's "Launchpad" Season 2 Debuts September 29 Exclusively on Disney+  
Today, Disney+ unveiled the trailer and poster for Season 2 of Disney's "Launchpad," a collection of six short films from underrepresented filmmakers whose unique and evocative voices bring new perspectives to storytelling. In addition, Disney+ released one image from each of the exciting short films.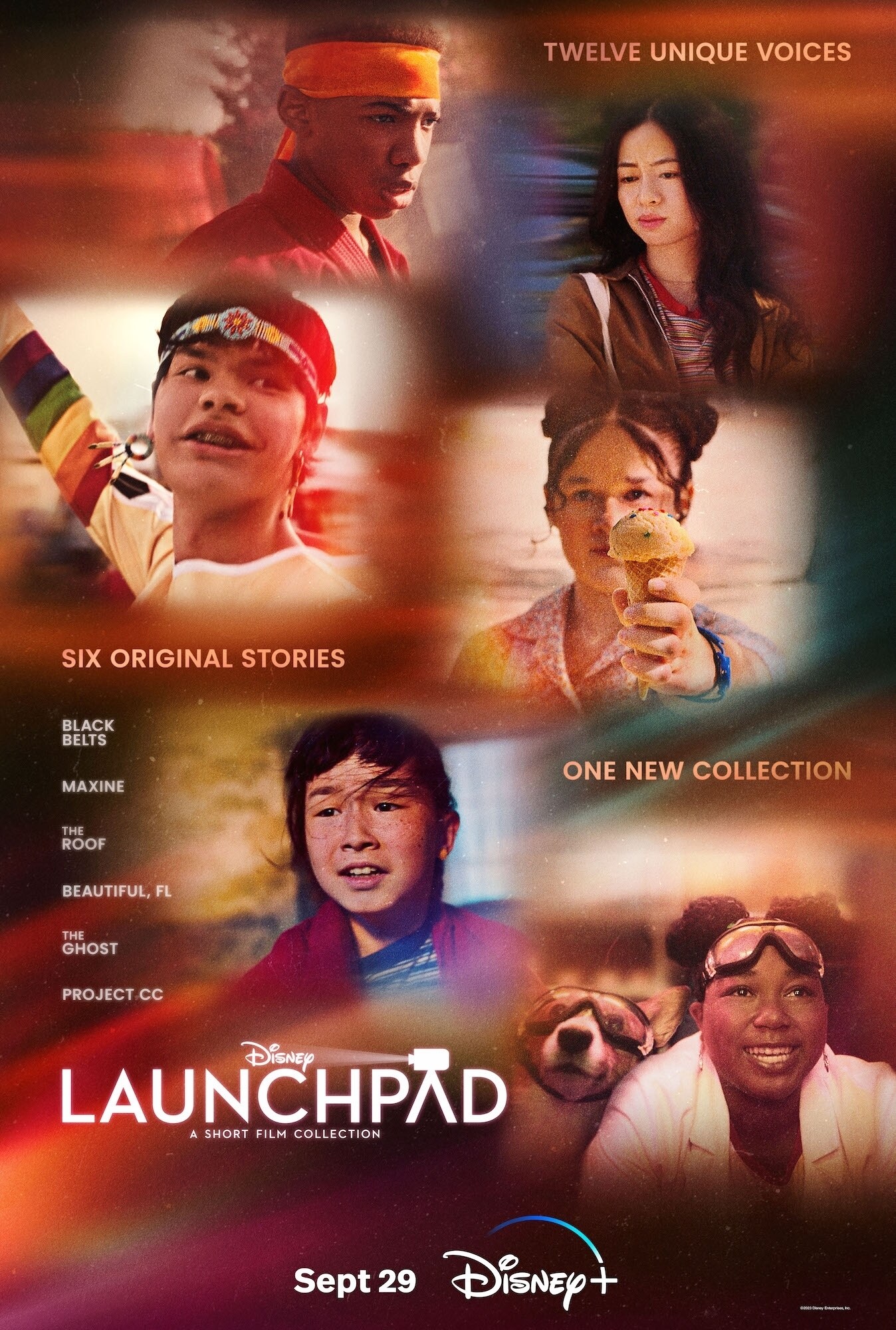 LINK TO TRAILER: https://youtu.be/tT8uN_80YoI
LINK TO POSTER & IMAGES: https://wdsprod.box.com/s/35gyaa3ug5h3dkomoresen4coqye2qph
Disney's "Launchpad" Season 2 is a collection of live-action shorts from a new generation of dynamic filmmakers. This season showcases six writers, five directors and one writer-director from underrepresented backgrounds who were given the opportunity to share their perspectives and creative visions. Continuing the goal of Disney's first season of "Launchpad," which was to diversify the types of stories that are being told by giving access to those who historically have not had it, "Launchpad" Season 2 is proud to present six new shorts for Disney+ based on the theme of "connection."
Sr. Manager and Producer of Disney "Launchpad" Phillip Domfeh stated, "The filmmakers of Disney 'Launchpad' season two have taken their storytelling to new heights by developing six imaginative and inspiring stories for Disney+."
Mahin Ibrahim, Director, RISE Creative Talent Pathways and Executive Producer, added, "We can't wait to give these incredibly talented writers, directors, producers, cast and crew the opportunity to showcase their creative passion and excellence in craft."
Panavision again provided the camera and lens packages for the six original shorts, and Light Iron, Panavision's post-production division, provided dailies, final color and finishing services for all of Season 2. "Panavision and Light Iron are proud to support the incredibly talented filmmakers of the Launchpad program's second season," says Panavision President and CEO Kim Snyder. "We're passionate about empowering storytellers from underrepresented communities by providing access to the tools and expertise that can support their creative visions throughout production and post."
Disney's "Launchpad" Season 2 premieres September 29, exclusively on Disney+. Through September 20, new and returning customers can subscribe to Disney+ Basic (with ads) for $1.99/month for three months by visiting www.disneyplus.com.
"LAUNCHPAD" SEASON 2 SHORT FILMS:
"Beautiful, FL"
Director: Gabriela Ortega
Writers: Joel Perez and Adrian Ferbeyre
Cast: Dariana Alvarez, Lynette Coll, Eileen Galindo, Logan "Meatball Queen" Jennings, Wendi McLendon-Covey
"Black Belts"
Director: Spencer Glover
Screenplay: Xavier Stiles, Spencer Glover
Story by: Xavier Stiles
Cast: Seth Carr, Tremayne Norris, Honey Robinson, Godderick Alucard, Smokey Campbell, Anthea Neri Best
"The Ghost"
Director: Erica Eng
Writer: Kevin Jihyek Park
Cast: Hana Marie Kim, Andie Ju, Sook Hyung Yang, Eddie Shin, Ayvah Jordan Vasquez, Tania Verafield
"Maxine"
Director/Writer: Niki Ang
Cast: Margaret Cho, Elaine Young, Isabella Day, Kelvin Han Yee, Celeste Den, Nicole Jia
"Project CC"
Director: Cashmere Jasmine
Writer: Jasmine Johnson
Cast: Jessica Mikayla, A'lasia Simone, Jordyn Curet, Shelley Meche'tte, Rhomeyn Johnson
"The Roof"
Director: Alexander Bocchieri
Writer: W.A.W. Parker
Cast: Phoenix Wilson, Wes Studi, DeLanna Studi, L. Frank Manriquez, Landa Lakes, John M. Sneezy 
SOCIAL MEDIA
X: @DisneyPlus
Instagram: @DisneyPlus
Facebook: @DisneyPlus
TikTok: @DisneyPlus
Hashtag: #DisneyPlus
ABOUT DISNEY+
Disney+ is the dedicated streaming home for movies and shows from Disney, Pixar, Marvel, Star Wars, and National Geographic, along with The Simpsons and much more. In select international markets, it also includes the general entertainment content brand, Star. The flagship direct-to-consumer streaming service from The Walt Disney Company, Disney+ offers an ever-growing collection of exclusive originals, including feature-length films, documentaries, live-action and animated series, and short-form content. With unprecedented access to Disney's long history of incredible film and television entertainment, Disney+ is also the exclusive streaming home for the newest releases from The Walt Disney Studios. Disney+ is available as a standalone streaming service, as part of the Disney Bundle in the U.S. that gives subscribers access to Disney+, Hulu, and ESPN+, or as part of Combo+ in Latin America with Star+, the standalone general entertainment and sports streaming service in the region. For more, visit disneyplus.com, or find the Disney+ app on most mobile and connected TV devices.
ABOUT PANAVISONPanavision is the world-class provider of end-to-end solutions that power the creative vision of filmmakers. Panavision's comprehensive offerings include unparalleled optics, proprietary camera and lighting systems, and state-of-the-art post-production services. Driven by a passion for collaborative innovation, Panavision provides the content-creation industry with the highest standard of quality and service. Panavision's portfolio includes the renowned brands Light Iron, Panalux, LEE Filters, Direct Digital and Island Studios. For more information and locations worldwide, visit Panavision.com.
ABOUT LIGHT IRON
Light Iron is recognized as an industry leader and pioneer in innovative file-based solutions for production and post. Filmmakers, studios, creatives and technologists rely on Light Iron's expertise to deliver progressive digital workflows that meet the needs of even the most complex features and series intended for any and all distribution platforms. Light Iron's service offerings include in-facility and near-set dailies options; offline editorial rentals; visual effects; color, finishing and mastering for HDR and SDR; and cutting-edge cloud-based media archiving. With physical facilities across North America, Light Iron also offers remote services on a global scale, enabling content creators working anywhere in the world to collaborate seamlessly with the company's talented roster of artists. Light Iron is part of the Panavision group's end-to-end offerings for image makers. For more information and locations worldwide, visit www.lightiron.com and www.panavision.com.
MEDIA CONTACT
Walt Disney Studios Global Publicity
Derek Del Rossi
derek.del.rossi@disney.com