Panels Featured Filmmakers and Cast of "Star Wars: The Bad Batch," "Star Wars: Visions" Volume 2 and "Star Wars: The Clone Wars," Along with Trailer Debuts for "Star Wars: Young Jedi Adventures" and Star Wars: Visions" Volume 2 and a Special Screening of the first two episodes of "Star Wars: Young Jedi Adventures"

Also announced: The full cast of "Star Wars: Visions" Volume 2, a second season of "Star Wars: Tales of the Jedi" in production, and "Star Wars: The Bad Batch" will return for its third and final season in 2024, both series coming to Disney+

Animation fans received a bounty of treats at this year's Star Wars Celebration in London.
LINK TO "YOUNG JEDI ADVENTURES" TRAILER: https://youtu.be/otoDnun24zM
LINK TO "VISIONS" TRAILER: https://youtu.be/SSXqU92cymY
LINK TO "VISIONS: KEY ART: https://wdsprod.box.com/s/vpfwvujcu9ca793qfgtd95bc73ox9wph
LINK TO CELEBRATION PHOTOS: https://dam.gettyimages.com/thewaltdisneystudios/starwarscelebration2023events
YOUNG JEDI ADVENTURES
On Saturday, host Krystina Arielle, executive producer James Waugh and showrunner Michael Olsen welcomed fans of all ages to a special screening of "Star Wars: Young Jedi Adventures." The screening began with the debut of the trailer, followed by a Q&A with Waugh and Olson. Dee Bradley Baker, the voice of a youngling named Nubs, surprised fans by introducing the screening using the voice of the animated Jedi youngling.
Set 200 years before "The Phantom Menace," during the High Republic era, the animated series follows Jedi younglings as they study the ways of the Force, explore the galaxy, help citizens and creatures in need and learn valuable skills needed to become Jedi along the way. Produced by Lucasfilm in collaboration with Wild Canary for Disney+ and Disney Junior, "Star Wars: Young Jedi Adventures" is executive produced by Lucasfilm's James Waugh, Jacqui Lopez and Josh Rimes. Michael Olson ("Puppy Dog Pals") is showrunner and executive producer.
"Star Wars: Young Jedi Adventures" stars Jamaal Avery, Jr. as Kai Brightstar, Juliet Donenfeld as Lys Solay, Dee Bradley Baker as Nubs, Emma Berman as Nash Durango, Jonathan Lipow as RJ-83, Piotr Michael as Master Yoda, Trey Murphy as Taborr Val Dorn and Nasim Pedrad as Master Zia.
"Star Wars: Young Jedi Adventures" releases on Disney+ and Disney Junior, where available, on May 4, 2023.
STAR WARS: THE CLONE WARS
Later that day, fans were treated to a panel celebrating the 15th anniversary of the Emmy® award winning series "Star Wars: The Clone Wars." Moderated by Amy Ratcliffe, the panel included executive producer Dave Filoni, VP, Animation Production Lucasfilm Animation Athena Portillo, sound editor Matthew Wood and art director Kilian Plunkett as well as cast members Dee Bradley Baker, Ashley Eckstein, Matt Lanter and James Arnold Taylor as they reminisced on how the series came to be. Dave ended the panel with the exciting announcement that he had so much fun creating the first season of "Star Wars: Tales of the Jedi," a second season is currently in production.
STAR WARS: THE BAD BATCH
On Monday, there was a panel for the acclaimed series "Star Wars: The Bad Batch," which just wrapped its second season as the Bad Batch continued their journey navigating the aftermath of Order 66 and the rise of the Empire.
Host Amy Ratcliffe welcomed "Star Wars: The Bad Batch" executive producer and supervising director Brad Rau, executive producer and head writer Jennifer Corbett, executive producer Athena Portillo, actors Dee Bradley Baker, who voices The Bad Batch, and Michelle Ang, the voice of Omega, to discuss highlights from the second season. Executive producers Rau, Corbett and Portillo announced that the show will return for a third and final season in 2024 to finish telling this part of the story. Fans in the room were treated to a special Season 3 teaser, sharing a sneak peek at what is to come including the return of Ming-Na Wen's fan-favorite bounty hunter, Fennec Shand.
STAR WARS: VISIONS
To close out Star Wars Celebration's animation panels, on Monday afternoon there was a "Star Wars: Visions" panel. The panel was filled with an abundance of reveals ahead of the series' May 4, 2023 release– including first story details for all nine shorts, the full cast list, the trailer and key art.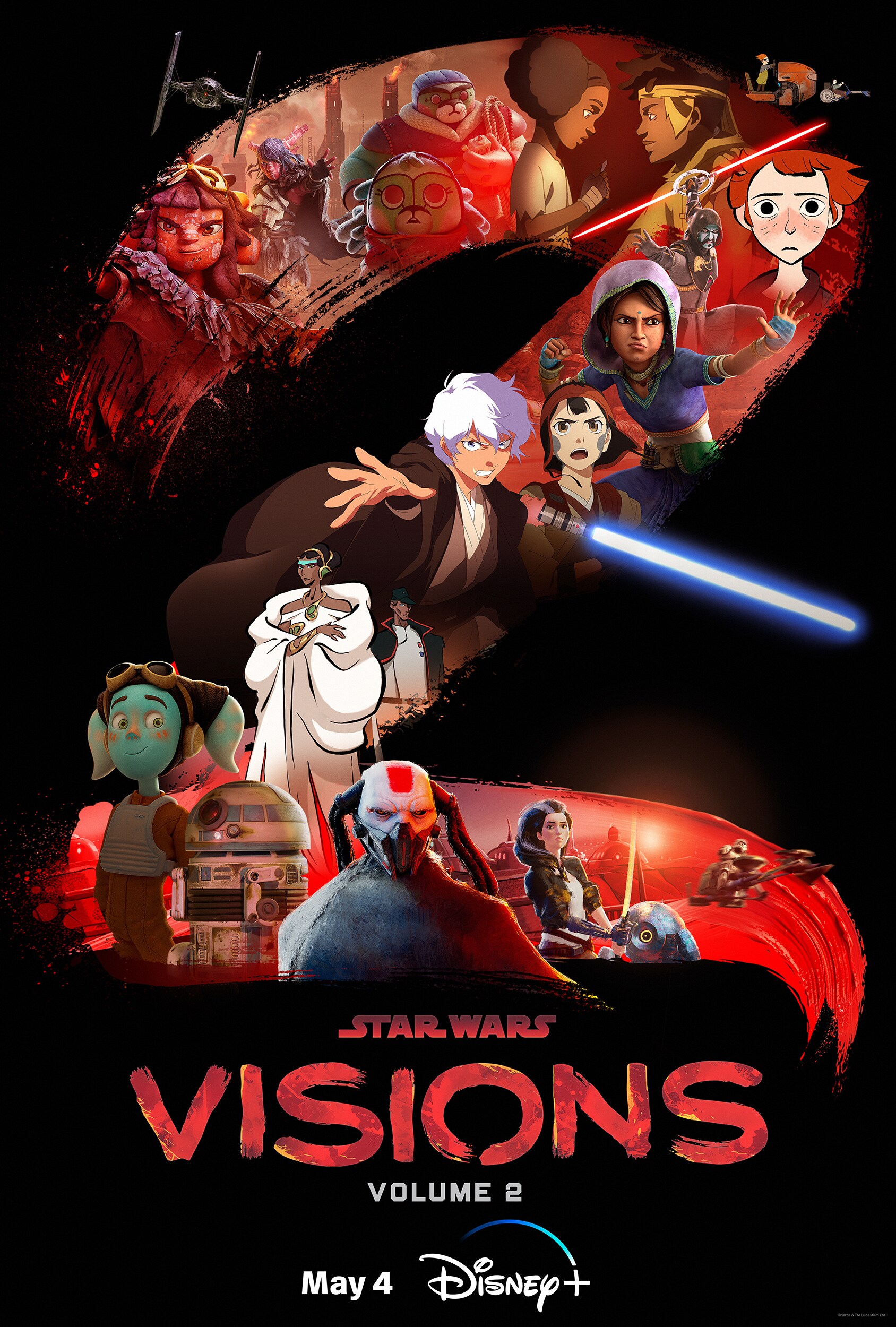 The newest Volume will continue to push the boundaries of "Star Wars" storytelling, with nine new shorts from nine studios from around the globe. Employing the most captivating animation styles from a variety of countries and cultures, the second volume offers a dynamic new perspective on the storied mythos of Star Wars.
To kick off the panel, host Amy Ratcliffe introduced executive producers of the Emmy® nominated series, Josh Rimes, James Waugh and Jacqui Lopez, who discussed the success of the show's first season and its unique concept featuring a collection of animated shorts that stretches beyond any one form of animation and serves as a broader framework for Star Wars storytelling.
Amy went on to reveal the trailer for Volume 2 and the voice talents behind the second volume.
The cast includes:
- "Screecher's Reach": Eva Whittaker
- "I Am Your Mother": Maxine Peake, Charithra Chandran
- "Journey to the Dark Head" (English Dub): Ashley Park, Eugene Lee Yang
- "The Bandits of Golak": Suraj Sharma
- "The Pit": Daveed Diggs
- "Aau's Song": Cynthia Erivo


After revealing the cast, Amy Ratcliffe introduced the series' filmmakers, who took to the stage in groups of three to reveal the first details about each of their shorts.


- Rodrigo Blaas, writer/director of El Guiri's "Sith" from Spain
- Paul Young, director of Cartoon's Saloon's "Screecher's Reach" from Ireland
- Gabriel Osorio, writer/director of Punkrobot's "In the Stars" from Chile.
- Magdalena Osinska, director of Aardman's "I Am Your Mother" from the United Kingdom
- Hyeong-Geun Park, director of Studio Mir's "Journey to the Dark Head" from South Korea
- Julien Chheng, director of Studio La Cachette's "The Spy Dancer" from France
- Milind Shinde, founder of India's 88 Pictures and executive producer of "The Bandits of Golak."
- LeAndre Thomas, writer/director/executive producer of "The Pit"; Arthell Isom, founder of D'ART Shtajio and executive producer of "The Pit"
- Nadia Darries and Daniel Clarke, co-directors of Triggerfish's "Aau's Song" from South Africa


Panelists shared how they incorporated their country's history and culture into their stories and created original characters that fit into the
Star Wars
galaxy and cast local talent to bring these characters to life. At the end of the panel, attendees were also treated to a surprise early screening of Aardman's short "I Am Your Mother
.
"
More information about all of the animation announcements out of Star Wars Celebration can be found at StarWars.com.
Website: http://www.starwars.com
You Tube: http://www.youtube.com/starwars
Twitter: @starwars; @DisneyPlus
Instagram: @starwars; @DisneyPlus
Facebook: @starwars; @DisneyPlus
ABOUT DISNEY+
Disney+ is the dedicated streaming home for movies and shows from Disney, Pixar, Marvel, Star Wars, and National Geographic, along with The Simpsons and much more. In select international markets, it also includes the general entertainment content brand, Star. The flagship direct-to-consumer streaming service from The Walt Disney Company, Disney+ offers an ever-growing collection of exclusive originals, including feature-length films, documentaries, live-action and animated series, and short-form content. With unprecedented access to Disney's long history of incredible film and television entertainment, Disney+ is also the exclusive streaming home for the newest releases from The Walt Disney Studios. Disney+ is available as a standalone streaming service, as part of the Disney Bundle in the U.S. that gives subscribers access to Disney+, Hulu, and ESPN+, or as part of Combo+ in Latin America with Star+, the standalone general entertainment and sports streaming service in the region. For more, visit disneyplus.com, or find the Disney+ app on most mobile and connected TV devices.
MEDIA CONTACTS
Disney+ Media Relations
Patrick O'Neil
Patrick.O'Neil@disney.com

Walt Disney Studios Global Publicity
Derek Del Rossi
derek.del.rossi@disney.com
Lucasfilm Publicity
Tracy Cannobbio
tracy.cannobbio@lucasfilm.com
Lillian Noble
lnoble@lucasfilm.com