With a Special Introduction by Lin-Manuel Miranda, The Original Voice Cast of Walt Disney Animation Studios' Oscar®-Winning 'Encanto' to 
Transport Audiences to the Magical Casita in Live-to-Film Epic Concert Experience, Produced by Fulwell 73 Productions



Special Guests Carlos Vives and Andrés Cepeda 

Join the Cast, 80-Person Orchestra and 50 Dancers




BURBANK, Calif. (Oct. 28, 2022) – Celebrate the holiday season with the Madrigal family as the storied Hollywood Bowl transforms into the magical Casita from "Encanto" in a show-stopping concert event, "Encanto at the Hollywood Bowl," with a special introduction by Lin-Manuel Miranda. From Disney Branded Television and produced by Fulwell 73 Productions ("Among the Stars," Emmy Award®-winning "Adele: One Night Only," "GRAMMYS®"), the all-new original special will be available to stream on Wednesday, Dec. 28, only on Disney+.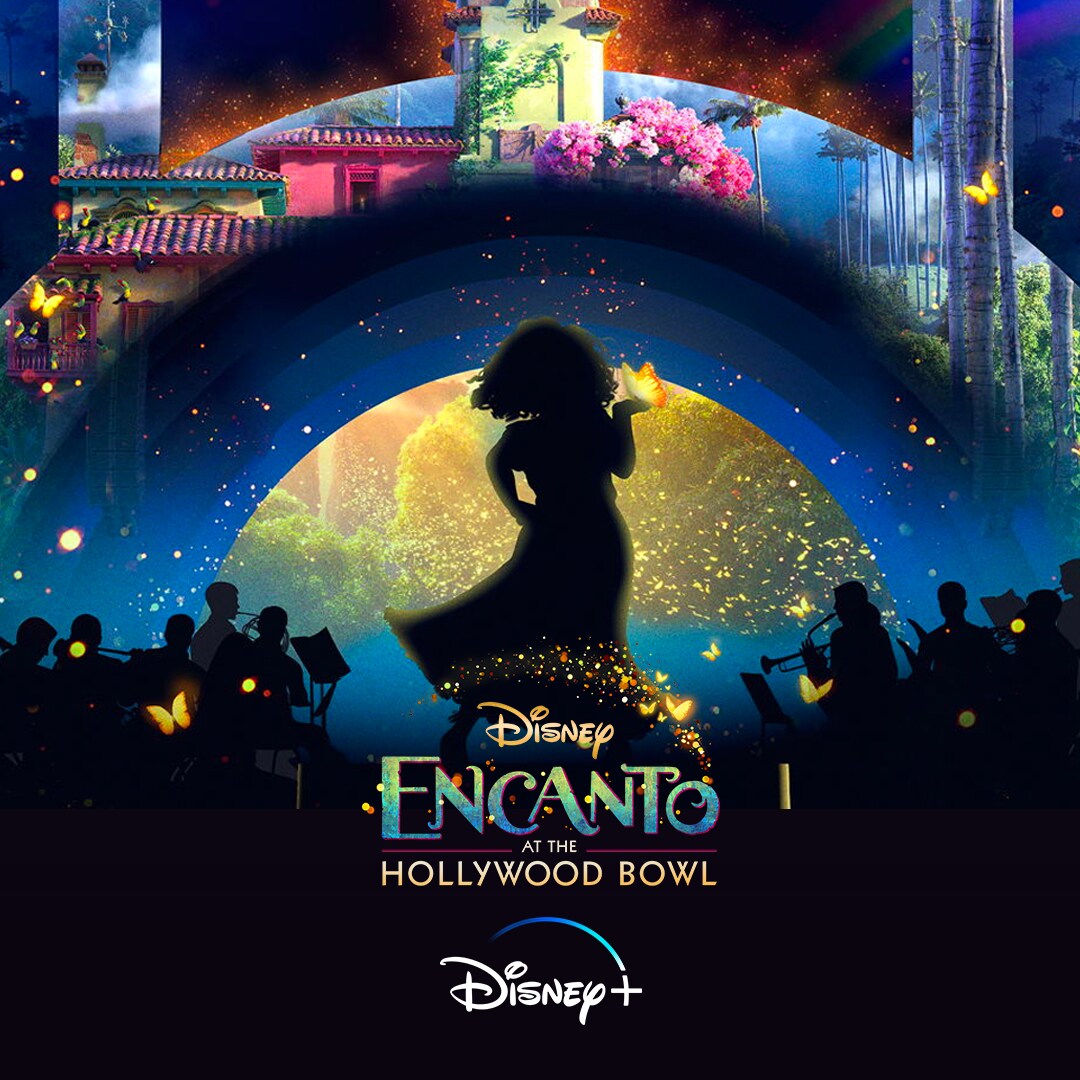 Step into Casa Madrigal for an unprecedented concert spectacular as the original voice cast of Walt Disney Animation Studios' Academy Award®-winning "Encanto" reunites at the Hollywood Bowl. Starring Stephanie Beatriz (as Mirabel), Adassa (as Dolores), Carolina Gaitán (as Pepa), Jessica Darrow (as Luisa), Diane Guerrero (as Isabela), Mauro Castillo (as Félix), Angie Cepeda (as Julieta) and Olga Merediz (as Abuela Alma) and special guests, including legendary Colombian superstars and multiple Latin GRAMMY Winners Carlos Vives and Andrés Cepeda, "Encanto at the Hollywood Bowl" turns the historic venue into the world of the animated film that became a global phenomenon. This live-to-film concert experience, featuring an 80-person orchestra, 50 dancers and out-of-this-world special effects, gives viewers a front-row seat to the unprecedented musical extravaganza celebrating the world, characters and songs of Disney Animation's "Encanto."

"'Encanto,' the film, has connected with people in so many important and wonderful ways, and playing Mirabel was an incredibly powerful and life-changing experience. I'm beyond thrilled to perform these beautiful songs live, along with my fellow 'Encanto' cast, in one of the most iconic concert venues in the world," says Stephanie Beatriz (Mirabel).
"'Encanto' has seen incredible success on Disney+, quickly rising as one of the most-watched animated films on the streaming service and ultimately becoming a global phenomenon that fans couldn't stop talking about. This holiday season, Disney+ is opening the doors to Casa Madrigal once again for a dazzling musical experience that will celebrate the magic and wonder of 'Encanto' in a whole new way," says Alisa Bowen, president of Disney+.
"We are so excited for this incredibly prolific concert event that is bringing together award-winning talent and some of the best storytellers in the world. With our partners at Walt Disney Animation Studios, Disney Concerts, Fulwell 73 Productions, AMP Worldwide and Live Nation-Hewitt Silva, the music of 'Encanto' will come to life in a must-see way that rivals the likes of the biggest award-show performances, and we're so thrilled audiences across the world can experience the spectacle from wherever they are on Disney+," says Ayo Davis, president of Disney Branded Television.
As previously announced, the spectacular concert production, on a massive scale, reunites the all-star cast who will perform the songs from the Oscar®-winning film, including fan-favorite musical numbers such as "We Don't Talk About Bruno" and "Surface Pressure," at the iconic Hollywood Bowl.
"Encanto at the Hollywood Bowl" will be directed by Chris Howe ("Coldplay Live at Whitby Abbey," "Bruno Mars: 24k Magic Live at Apollo") and Jamal Sims (original "Encanto" film choreographer) with production design by Misty Buckley ("Coldplay's 2016 Super Bowl 50 Halftime Show," ABC's "The Little Mermaid Live!"). Sally Wood ("BRIT Awards 2021," "An Audience with Adele") is Fulwell 73 Productions' creative showrunner, with Gabe Turner, Emma Conway and Lou Fox serving as executive producers. The Hollywood Bowl's visual transformation into the Casita is brought to life by NorthHouse (Coldplay at "The Queen's Platinum Jubilee"). The concert event is produced by Fulwell 73 Productions, Live Nation-Hewitt Silva and Disney Concerts, along with AMP Worldwide, the team behind several highly acclaimed live-to-film events at the Hollywood Bowl, including Disney's "Beauty and the Beast in Concert," starring Zooey Deschanel and Kelsey Grammer, as well as Disney's "The Nightmare Before Christmas," starring Danny Elfman and Catherine O'Hara. For Disney Branded Television, Marc Buhaj is vice president, unscripted and nonfiction, and Nicole Silveira is vice president, unscripted.
Conductor Anthony Parnther will lead the full orchestra performing the film's score and cherished songs live-to-picture, along with the outstanding cast and special guest artists performing the film's acclaimed songs live. A Colombian band, featuring musicians from the original soundtrack, will accompany the orchestra.
Walt Disney Animation Studios' "Encanto" tells the tale of an extraordinary family, the Madrigals, who live hidden in the mountains of Colombia in a magical house within a vibrant town that's situated in a wondrous, charmed place called an Encanto. The magic of the Encanto has blessed every child in the family with a unique gift from super strength to the power to heal — every child except one: Mirabel. But when she discovers that the magic surrounding the Encanto is in danger, Mirabel decides that she — the only ordinary Madrigal — just might be her exceptional family's last hope.
The "Encanto" original motion picture soundtrack features eight original songs by Academy Award-nominated, Tony® and GRAMMY-winning songwriter/composer Lin-Manuel Miranda ("Hamilton," "Moana") with an original score by Academy Award-nominated composer Germaine Franco. The R.I.A.A. platinum-certified soundtrack held the No. 1 position on the Billboard 200 album chart for nine non-consecutive weeks, and the R.I.A.A. three-time platinum-certified song "We Don't Talk About Bruno" topped the Hot 100 chart for five weeks. The soundtrack and song held the No. 1 position on the Billboard 200 and Hot 100 simultaneously for five consecutive weeks.
The show will be filmed across two performances at the Hollywood Bowl, Nov. 11 and Nov. 12. Tickets to the Hollywood Bowl performances can be purchased HERE.
About Disney+:
Disney+ is the dedicated streaming home for movies and shows from Disney, Pixar, Marvel, Star Wars, and National Geographic, along with The Simpsons and much more. In select international markets, it also includes the general entertainment content brand, Star. The flagship direct-to-consumer streaming service from The Walt Disney Company, Disney+ is part of the Disney Media & Entertainment Distribution segment. The service offers an ever-growing collection of exclusive originals, including feature-length films, documentaries, live-action and animated series, and short-form content. With unprecedented access to Disney's long history of incredible film and television entertainment, Disney+ is also the exclusive streaming home for the newest releases from The Walt Disney Studios. Disney+ is available as a standalone streaming service, as part of the Disney Bundle in the U.S. that gives subscribers access to Disney+, Hulu, and ESPN+, or as part of Combo+ in Latin America with Star+, the standalone general entertainment and sports streaming service in the region. For more, visit disneyplus.com, or find the Disney+ app on most mobile and connected TV devices.
About Disney Branded Television:
Disney Branded Television encompasses the creative storytellers, and production and marketing teams responsible for Disney-branded television series, movies and other programming spanning live-action, animated and unscripted formats. The group helps fuel the Disney+ streaming platform and Disney Channel, Disney XD and Disney Junior linear networks with content geared toward kids, tweens, teens and families, with stories that are imaginative, aspirational and reflective of their world and experiences. Recent projects include "High School Musical: The Musical: The Series," "Monsters at Work," "The Mysterious Benedict Society," "Growing Up," and "Marvel's Spidey and his Amazing Friends," as well as upcoming "Elton John Live: Farewell from Dodger Stadium." Disney Branded Television has created some of the most iconic and award-winning properties and franchises, including Peabody Award winners "Doc McStuffins" and "The Owl House"; Emmy® Award winners "Big City Greens," "Turning the Tables with Robin Roberts," and "Elena of Avalor"; the beloved "Mickey Mouse" cartoon shorts plus the Disney Channel Original Movie (DCOM) franchise, comprised of more than 100 titles.
About Disney Concerts:
Disney Concerts is the concert production and licensing division of Disney Music Group, the music arm of The Walt Disney Company. Disney Concerts produces concerts and tours, and licenses Disney music and visual content to symphony orchestras and presenters on a worldwide basis. Disney Concerts' concert packages include a variety of formats, such as "live to picture" film concerts and themed instrumental and vocal compilation concerts and range from instrumental-only symphonic performances to multimedia productions featuring live vocalists and choir. Current titles include the Star Wars Film Concert Series, Toy Story, Aladdin, The Muppet Christmas Carol, Disney Princess - The Concert, Coco, The Lion King, Up and The Nightmare Before Christmas, which in 2019 accounted for over 900 performances in many of the world's top concert venues. Follow @DisneyConcerts: Facebook, Instagram, Twitter.
About Walt Disney Animation Studios:
Combining masterful artistry and storytelling with groundbreaking technology, Walt Disney Animation Studios is a filmmaker-driven animation studio responsible for creating some of the most beloved films ever made. WDAS continues to build on its rich legacy of innovation and creativity, from the first fully-animated feature film, 1937's Snow White and the Seven Dwarfs, to 2019's Frozen 2, the biggest animated film of all time, to our 60th animated feature, the Academy Award-winning Encanto. Among the studio's timeless creations are Pinocchio, Sleeping Beauty, The Jungle Book, The Little Mermaid, The Lion King, Frozen, Big Hero 6 and Zootopia.
About AMP Worldwide:
AMP was founded by a highly respected, forward-thinking team of performing arts Agents, Managers & Producers. Co-founders Alison Ahart Williams, Tim Fox, Georgina Ryder and Alicia Horwitz, have conceptualized, created, managed, and produced live concert events for the major stages of the world, including the Hollywood Bowl, Royal Albert Hall, Carnegie Hall, Tokyo Forum, Lincoln Center, Sydney Opera House, Philharmonie de Paris, and Wembley Arena. These star-studded, live-to-picture concert events have included such Disney classics as: The Little Mermaid starring Sara Bareilles, Rebel Wilson, Harvey Fierstein, Lea Michele, and John Stamos; The Nightmare Before Christmas starring Danny Elfman, Catherine O'Hara, and Paul Reubens; and Beauty and the Beast starring Zooey Deschanel, Jane Krakowski, Kelsey Grammar, and Taye Diggs.
As a leader in the development of creative original content for stages of all sizes, AMP develops high-quality productions that engage musicians and audiences in captivating ways, alongside of representing and producing international touring productions, world-class conductors, instrumentalists, composers and soloists.
About Fulwell 73 Productions:
Fulwell 73 Productions is a London- and Los Angeles-based production company making top-quality television programs and motion pictures that both entertain and inform. Born in 2005 from a lifelong friendship between founding partners Ben Winston, Leo Pearlman, Ben Turner and Gabe Turner, Fulwell 73 expanded in 2017 with the addition of partner James Corden.
On the television side, Fulwell 73 produces the AppleTV+ multi-Emmy Award-winning "Carpool Karaoke The Series," Emmy and Critics Choice Award-winning "The Late Late Show with James Corden" and the hit Hulu series "The Kardashians." They also produced the Emmy Award-winning CBS special "Adele: One Night Only" and BAFTA-nominated "An Audience with Adele," for ITV, the Disney+ space series "Among the Stars" and Netflix unscripted series "Sex Unzipped," hosted by Saweetie. For the second consecutive year Fulwell 73 produced the GRAMMY Awards, the biggest musical celebration on television, and are credited with revitalizing the awards program.
Additional television credits include Amazon documentary "All or Nothing Juventus," Netflix documentary "Sunderland 'til I Die," BBC's "Jack Whitehall's Sporting Nation" and BAFTA winning feature doc "Bros: After the Screaming Stops," Channel 4's "Auschwitz Untold: In Colour," the hit "Gavin & Stacey Christmas Special" for BBC One and the UK's "Stand Up to Cancer" special, which raised more than 31 million pounds.
Film credits include Amazon's retelling of "Cinderella," starring Camila Cabello, which debuted as the number one streaming film on its opening weekend, and upcoming "Real Pigeons Fight Crime" for Nickelodeon. Additional film credits include Lionsgate's critically acclaimed "In the Hands of God," Universal Pictures' football documentary "The Class of 92," Sony Pictures' box office hit "One Direction 3D: This is Us," and Universal Pictures' Usain Bolt documentary "I Am Bolt." www.fulwell73.com
About Live Nation-Hewitt Silva & Hollywood Bowl:
Live Nation-Hewitt Silva (LNHS) is the exclusive promoter of concerts at the Hollywood Bowl outside of the LA Philharmonic summer season. Andrew Hewitt and Bill Silva have produced non-classical concerts at the Hollywood Bowl since 1991, hosting artists such as the Rolling Stones, Paul McCartney, Barbra Streisand, Elton John, Dolly Parton, Eagles, Whitney Houston, Fleetwood Mac, Sade, Radiohead, Sting, Andrea Bocelli, Stevie Nicks, Billy Joel, Luciano Pavarotti, Tom Petty & the Heartbreakers, Mary J. Blige, Jay-Z, Coldplay, Lauryn Hill, Peter Gabriel, Dead & Company, Lana Del Rey, Depeche Mode, Tame Impala, Roger Waters, The Weeknd, and countless others. With their combined superior talent bookings and music offerings, LNHS has transformed the iconic venue to become L.A.'s premier contemporary concert destination. One of the largest natural amphitheaters in the world, with a seating capacity of nearly 18,000, the Hollywood Bowl has been awarded Pollstar's "Outdoor Concert Venue of the Year" 15 times. It was also awarded Billboard's "Top Amphitheater" several times. The summer of 2022 lineup features some of the biggest names in contemporary entertainment, such as 2CELLOS, Dave Chappelle, Haim, Russ, Steely Dan, Rex Orange County, Backstreet Boys, Rod Stewart, Andrea Bocelli, Halsey, Ben Platt, Dave Matthews Band, Jack Johnson, New Order, Pet Shop Boys, Maren Morris, The Who, Zac Brown Band, Matchbox Twenty, and Florence & the Machine. livenation-hewittsilva.com Instagram | Facebook
MEDIA CONTACTS
Disney+
Kelsie Boudreau
kelsie.boudreau@disney.com
Disney Branded Television
Tahli Kouperstein
tahli.kouperstein.-nd@natgeo.com
Kate Squier
kate.squier@natgeo.com
For press inquiries regarding the Hollywood Bowl performance, please contact:
For Disney Concerts and Disney Music Group
Maria Kleinman
maria.kleinman@disney.com
For Live Nation-Hewitt Silva & Hollywood Bowl
Maxie Solters, Scoop Marketing
msolters@solters.com