First Look Images of Guest Cast Released

The Highly-Anticipated Series from Disney Branded Television and 20th Television Premieres December 20

NEW YORK, NY (October 15, 2023) Today, the Disney+ Original series "Percy Jackson and the Olympians" made its New York Comic-Con debut on the Empire Stage. Fans in-room were treated to a special sneak peek with never-before-seen clips from the upcoming series and received an even bigger surprise when best-selling author and series executive producer Rick Riordan, and fellow executive producer Rebecca Riordan, came out on-stage to introduce the final clip.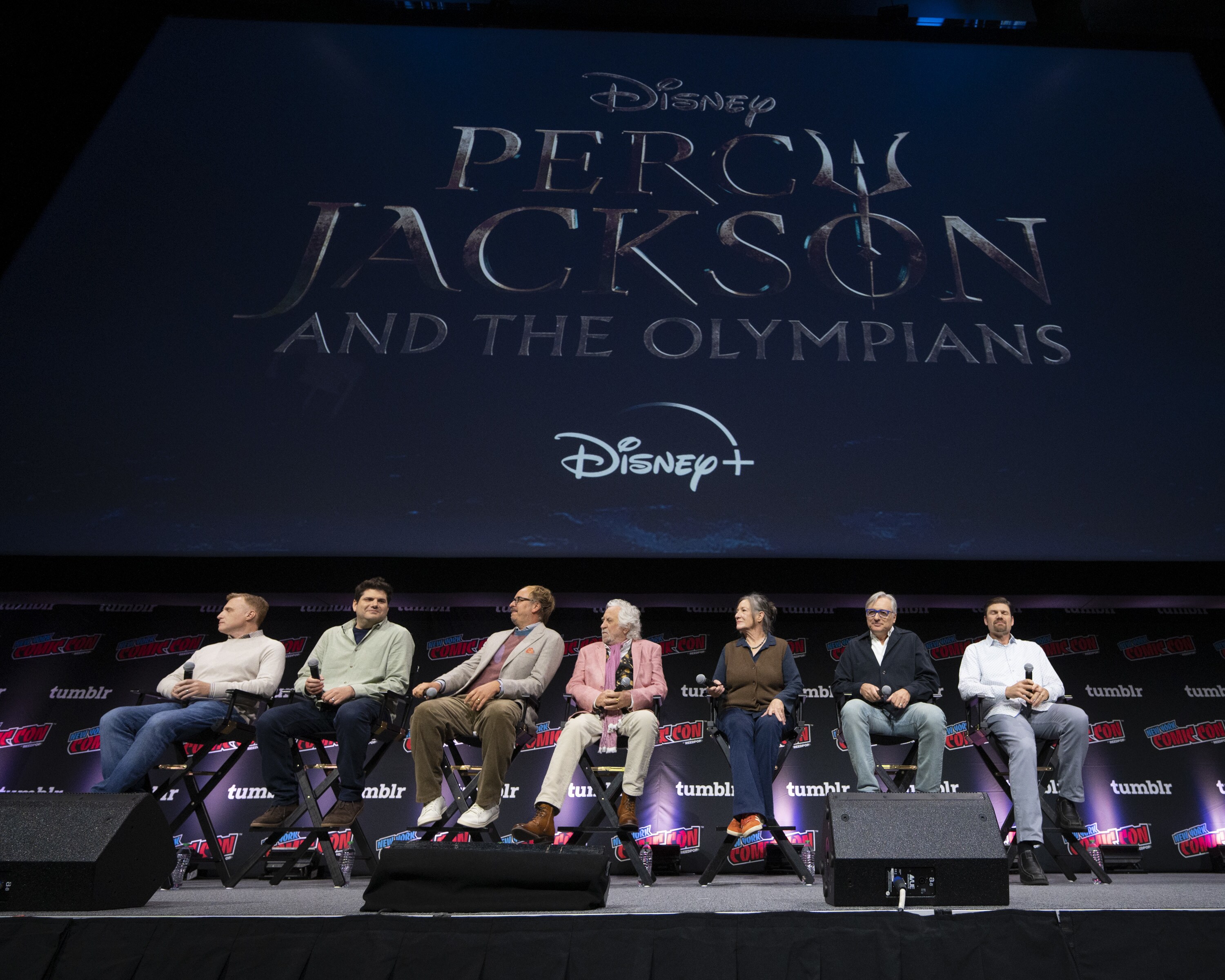 Click HERE to download images
The panel showcased an in-depth conversation with series executive producers Jon Steinberg, Dan Shotz, and James Bobin, who also directed the first two episodes. They were joined by four members of the production team, production designer Dan Hennah, costume designer Tish Monaghan, VFX supervisor Erik Henry and ILM VFX supervisor Jeff White.
During the panel, they revealed first-look images of the many guest actors including:
Lin-Manuel Miranda as "Hermes"
Megan Mullally as "Alecto" aka "Mrs. Dodds"
Toby Stephens as "Poseidon"
Virginia Kull as "Sally Jackson"
Jason Mantzoukas as "Dionysus" aka "Mr. D"
Jay Duplass as "Hades"
Glynn Turman as "Chiron" aka "Mr. Brunner"
the late Lance Reddick as "Zeus"
Adam Copeland as "Ares"
Charlie Bushnell as "Luke Castellan"
Dior Goodjohn as "Clarisse La Rue"
Jessica Parker Kennedy as "Medusa"
Suzanne Cryer as "Echidna"
Timm Sharp as "Gabe Ugliano"
Timothy Omundson as "Hephaestus"
Created by Rick Riordan and Jon Steinberg, "Percy Jackson and the Olympians" is executive produced by Steinberg and Dan Shotz alongside Rick Riordan, Rebecca Riordan, The Gotham Group's Ellen Goldsmith-Vein, Bert Salke, The Gotham Group's Jeremy Bell and D.J. Goldberg, James Bobin, Jim Rowe, Monica Owusu-Breen, Anders Engström, Jet Wilkinson.
The epic eight-episode series launches with a two-episode premiere on December 20 on Disney+, followed by new episodes weekly.
X: @DisneyPlus, @PercySeries
Instagram: @DisneyPlus, @PercySeries
Facebook: @DisneyPlus
TikTok: @DisneyPlus, @percyseries
Hashtag: #PercyJackson
Media Kit: https://press.disneyplus.com/media-kits/percy-jackson-and-the-olympians
Media Contacts:
Disney Branded Television
Chrissy Woo
Chrissy.Woo@disney.com
20th Television
Erin Riley
Erin.Riley2@disney.com