Coming-of-Age Sports Comedy Will Debut Exclusively on Disney+ on Friday, March 10 
BURBANK, Calif. (March 6, 2023) – Stills and b-roll from tonight's Launch & Screening Event for Disney's "Chang Can Dunk" are available now. In attendance from the film, which debuts March 10 exclusively on Disney+, were cast members Bloom Li, Dexter Darden, Ben Wang, Zoe Renee, Chase Liefield, Mardy Ma and Eric Anthony Lopez, along with Writer-Director Jingyi Shao, Producers Rishi Rajani, Lena Waithe and Brad Weston and Costume Designer Joshua Marsh. Prior to the screening, guests were immersed into the basketball world of "Chang Can Dunk" through engaging dunk photo opportunities and hooping entertainment.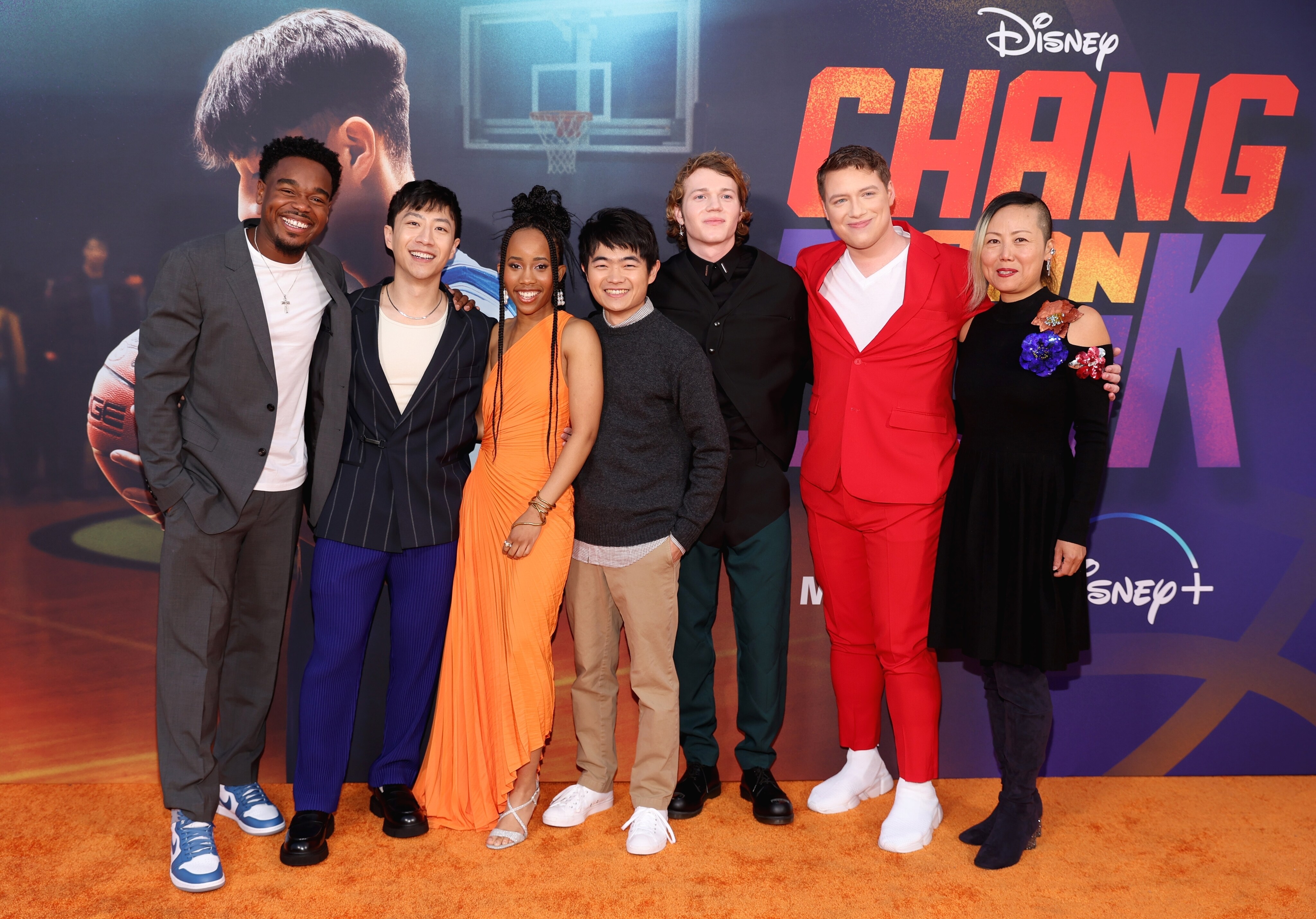 TO VIEW PHOTOS: https://dam.gettyimages.com/thewaltdisneystudios/changcandunkscreeningla
TO VIEW FOOTAGE: https://www.epk.tv/view/#/campaign/chang-can-dunk/private-launch-and-screening-event/
"Chang Can Dunk" follows Chang, a 16-year-old, Asian American high school student in the marching band, who bets the school basketball star that he can dunk by Homecoming. The bet leads the 5 '8" Chang on a quest to find the hops he needs to dunk in order to impress his crush, Kristy, and finally gain the attention and respect of his high school peers. But before he can rise up and truly throw one down, he'll have to reexamine everything he knows about himself, his friendships and his family.
SOCIAL:
Twitter: @DisneyPlus Instagram: @DisneyPlus Facebook: @DisneyPlus TikTok: @DisneyPlus Hashtag: #DisneyPlus
ABOUT DISNEY+
Disney+ is the dedicated streaming home for movies and shows from Disney, Pixar, Marvel, Star Wars, and National Geographic, along with The Simpsons and much more. In select international markets, it also includes the general entertainment content brand, Star. The flagship direct-to-consumer streaming service from The Walt Disney Company, Disney+ offers an ever-growing collection of exclusive originals, including feature-length films, documentaries, live-action and animated series, and short-form content. With unprecedented access to Disney's long history of incredible film and television entertainment, Disney+ is also the exclusive streaming home for the newest releases from The Walt Disney Studios. Disney+ is available as a standalone streaming service, as part of the Disney Bundle in the U.S. that gives subscribers access to Disney+, Hulu, and ESPN+, or as part of Combo+ in Latin America with Star+, the standalone general entertainment and sports streaming service in the region. For more, visit disneyplus.com, or find the Disney+ app on most mobile and connected TV devices.
MEDIA CONTACTS
Disney+ Media Relations
Patrick O'Neil
Patrick.O'Neil@disney.com
Walt Disney Studios Global Publicity
Global Publicity
Derek Del Rossi
derek.del.rossi@disney.com