Guests Include Brooke Shields, Chloe Kim, Chrissy Metz, Dionne Warwick, Hayley Kiyoko, Kelly Osbourne, Kyla Pratt, Loni Love, Marsai Martin, Rita Wilson, Sheryl Lee Ralph and Yaya DaCosta

Official Trailer, Key Art and Photos Now Available for the Four-Episode Season, Featuring Intimate Round Table Conversations With Robin Roberts and Female Celebrities From All Walks of Life


BURBANK, Calif. – (Feb. 15, 2023) Disney+ invites you to join ABC News' Robin Roberts for season two of "Turning The Tables with Robin Roberts." The four-episode season of the Emmy Award-winning series from Disney Branded Television will premiere on Disney+ on Wednesday, March 15, in celebration of Women's History Month. Robin Roberts, co-anchor of ABC's "Good Morning America," hosts and executive produces the series, along with LeBron James and The SpringHill Company. The first season of the series, which won the 2022 Daytime Emmy for Outstanding Informative Talk Show, is now streaming on Disney+.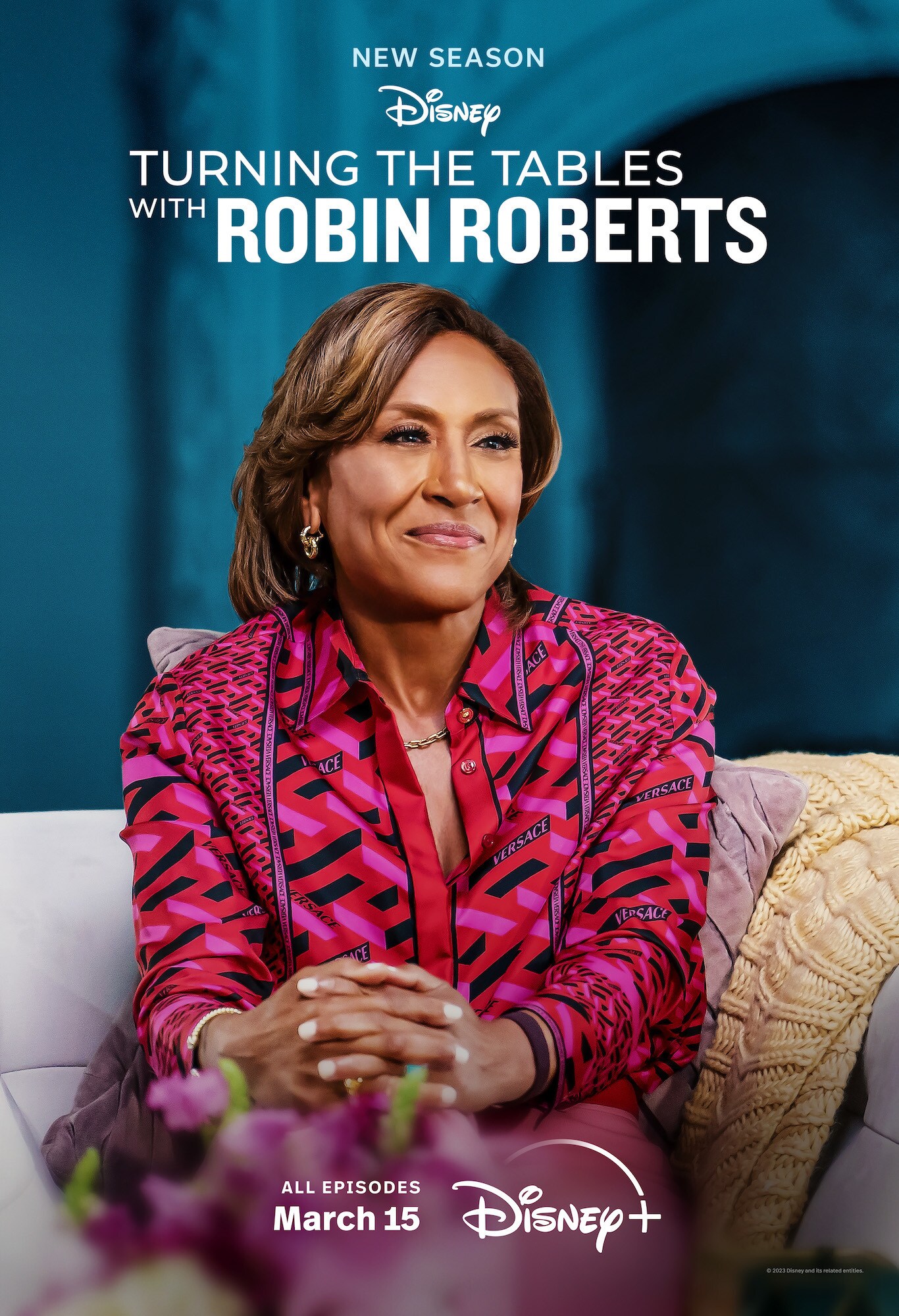 LINK TO DOWNLOAD ASSETS: HERE
In season two, Roberts gets personal with a new group of Hollywood's iconic women, where they reveal new insights into their incredible journeys on their path to purpose. Each episode features profoundly moving and inspirational conversations centering around real-life topics, including grace, fulfillment, certainty and community. The women detail the struggles they have faced on their journeys through fame in a safe and comforting environment: your best friend's couch! Listen to never-before-heard stories of how these groundbreakers, from a Gold Medal Olympian to an Emmy Award-winning actress, came face-to-face with their vulnerability, authenticity and intuition to create room for expansion and evolution.
This season's guests include Brooke Shields, Chloe Kim, Chrissy Metz, Dionne Warwick, Hayley Kiyoko, Kelly Osbourne, Kyla Pratt, Loni Love, Marsai Martin, Rita Wilson, Sheryl Lee Ralph and Yaya DaCosta. Each woman brings her unique perspective, and the diversity in experiences extends beyond the couch to behind the camera as well. In addition to Roberts and James, the series is executive produced by an incredible team of women, BIPOC, and members of the LGBTQ+ community.
"Shows and stories like these are so important to tell because it lends a magnifying glass on diverse storytellers and connects us with people all over the world who have these same struggles," says executive producer and host Roberts.
The episode topics featured in the series include the following:
Grace
Robin Roberts has an intimate conversation with hilarious comedian Loni Love, actress/singer Chrissy Metz and beloved television personality Kelly Osbourne about discovering and giving themselves grace. Unafraid to pursue their calling, these women have had to validate themselves time and time again through the many chapters of their lives and careers. Learn how these multifaceted women have transformed their experiences of judgment and feelings of defeat into an energy that turned their lives and careers into their wildest dreams.
Fulfillment
Robin Roberts sits down with actress/singer Rita Wilson, actress Kyla Pratt and snowboarding Olympic Gold medalist Chloe Kim to discuss living their truth with intention. These women have overcome the pressures of their industry and transitioned from child stars to adults by tapping into their strengths to find happiness. The dedication to inner work, finding balance and their belief in themselves has led each of these women down their own paths. They are focused on living out their version of fulfillment … but what does fulfillment truly mean?
Certainty
Robin Roberts explores confidence and certainty with GRAMMY Award®-winning artist extraordinaire Dionne Warwick, actress/model Yaya Dacosta and actress/singer Hayley Kiyoko. Watch these women connect as they chat about their commitment to the path that helped them discover who they are and who they want to be. Although all three have arrived at their versions of confidence and certainty. How did they find the path to get there?
Community
Robin Roberts gets personal with actresses Marsai Martin, Brooke Shields and Sheryl Lee Ralph. These women pursued their dream from a very young age and are connected by their love and commitment to performance. In overcoming societal pressures, expectations, dishonesty and fear, they have simultaneously owned their lives, stories and careers. Through it all, they find solace in building, supporting and being supported by their communities. As they transition to new seasons of their lives, how do they ensure longevity?
"Turning the Tables with Robin Roberts" is produced by Rock'n Robin Productions and The SpringHillCompany. The series was originally developed by Roberts and Philip Byron, SpringHill's senior vice president of Unscripted and Documentaries. Roberts and Reni Calister are executive producers for Rock'n Robin Productions. LeBron James, Maverick Carter, Jamal Henderson and Philip Byron are executive producers for SpringHill, with co-executive producer Courtney Whitaker. Kadine Anckle is the showrunner and executive producer.
Social Media:
Twitter: @DisneyPlus
Instagram: @DisneyPlus
Facebook: @DisneyPlus
TikTok: @DisneyPlus
#TTWRR
About Disney+:
Disney+ is the dedicated streaming home for movies and shows from Disney, Pixar, Marvel, Star Wars, and National Geographic, along with The Simpsons and much more. In select international markets, it also includes the general entertainment content brand, Star. The flagship direct-to-consumer streaming service from The Walt Disney Company, Disney+ offers an ever-growing collection of exclusive originals, including feature-length films, documentaries, live-action and animated series, and short-form content. With unprecedented access to Disney's long history of incredible film and television entertainment, Disney+ is also the exclusive streaming home for the newest releases from The Walt Disney Studios. Disney+ is available as a standalone streaming service, as part of the Disney Bundle in the U.S. that gives subscribers access to Disney+, Hulu, and ESPN+, or as part of Combo+ in Latin America with Star+, the standalone general entertainment and sports streaming service in the region. For more, visit disneyplus.com, or find the Disney+ app on most mobile and connected TV devices.
About Disney Branded Television:
Disney Branded Television encompasses the creative storytellers and production and marketing teams responsible for Disney-branded television series, movies and other programming spanning live-action, animated and unscripted formats. The group helps fuel the Disney+ streaming platform and Disney Channel, Disney XD and Disney Junior linear networks with content geared toward kids, tweens, teens and families, with stories that are imaginative, aspirational and reflective of their world and experiences. Recent projects include "High School Musical: The Musical: The Series," "Monsters at Work," "The Mysterious Benedict Society," "Growing Up," and "Marvel's Spidey and his Amazing Friends," as well as "Elton John Live: Farewell from Dodger Stadium." Disney Branded Television has created some of the most iconic and award-winning properties and franchises, including Peabody Award winners "Doc McStuffins" and "The Owl House"; Emmy® Award winners "Big City Greens," "Turning the Tables with Robin Roberts," and "Elena of Avalor"; the beloved "Mickey Mouse" cartoon shorts plus the Disney Channel Original Movie (DCOM) franchise, comprised of more than 100 titles.
About Rock'n Robin Productions
Headed by Good Morning America co-anchor Robin Roberts, Rock'n Robin Productions is a full service, award winning broadcast and digital production company based in New York City creating new and exciting programming for network, cable, streamers, and online audiences. Projects range from documentaries and talk shows, to news driven specials, scripted dramas, sports programming and short form digital series. Regular clients of RRP include ABC, ESPN, Lifetime, Disney+ & espnW. For more information, go to www.rocknrobin.tv
About The SpringHill Company
The SpringHill Company's Emmy Award-winning studio team, founded by LeBron James and Maverick Carter, develops and produces high-quality sports and entertainment film, audio and theatrical releases with the biggest content creators, networks, streamers, brands and platforms in the world. All studio projects are empowerment led, where content isn't simply to entertain, but to inspire with thought-provoking themes, conversations and journeys within documentaries and scripted verticals. Studio projects include The Shop, Space Jam: A New Legacy, Hustle, Turning the Tables with Robin Roberts, Recipe for Change, Top Boy, Self Made: Inspired by the Life of Madam C.J. Walker, The Wall, untitled Nipsey Hussle docuseries, What's My Name: Muhammad Ali, The First One with DJ Khaled, Top Class and many more.
MEDIA CONTACTS
Disney+ Media Relations:
Alexis Greenberg
Alexis.Greenberg@disney.com
Disney Branded Television:
MarcAnthony Gardner
MarcAnthony.Gardner@disney.com
Kate Squier
Kate.Squier@natgeo.com
The SpringHill Company
Talia Yemenjian
Talia@thespringhillco.com